About Us
Himalaya Film Services is an international Film Production Company in India servicing the wider Himalaya region including Nepal, Pakistan, and Bhutan. We provide international companies with first class film production services for all types of production including, Feature Films, Commercials, TV Production, Documentary Films and Corporate Productions. We operate throughout the region and have a network of proven reliable service providers. The Founder, Tony Cordeaux, is also the founder and Executive Producer of Goa Film Services which was established in 2006 as the first dedicated international Production Services Company in India.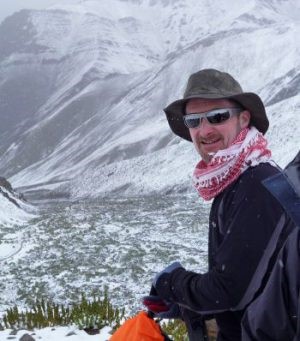 Tony started his professional career in London in 1989 and has worked in a variety of roles including Producer, Line Producer, Fixer, Director, and Editor.  He has genuine passion for all aspects of Himalayan culture and exploration. He has been a Producer in the region for last 15 years and works hard to ensure our clients have a great experience shooting here.
Clients can fly in with a few key personnel, confident that a full production services package will be waiting for them to give them the shoot experience they expect with top quality crew, equipment, transportation, hotels, catering, and anything else you might require for your shoot.
India, Nepal, and Bhutan have a wonderful range of shooting locations and India has a huge well equipped local film industry to service the region. We can provide you with the best that the region has to offer, with every detail managed and coordinated to the standards that you expect. We have a dynamic team of dedicated film production professionals from India, Nepal,Bhutan, and Europe providing a balanced mix of local knowledge and influence with experience of international production standards and methods.
These days it's often difficult to budget for international shoots so if you don't have the time or funds to travel to India, Nepal, or Bhutan we can source locations and contributors then 'shoot to order' your footage. We can upload selected rushes or edit a complete package for you then send all the rushes by courier.
If you need a Fixer in India, Nepal, Pakistan or Bhutan we provide a full range of services from Development, Budgeting, Scouting, Film Permits, Scheduling, Transparent Accounting, and everything else you will need for a successful production throughout the Himalaya region.
We have provided production services to some of the most prestigious broadcasters and film production companies in the world including, Netflix, HBO, BBC, PBS, National Geographic, Discovery, History Channel, Channel 4, ITV, North One TV, Blink Films, October Films, and many more.
Tony has more than 30 years experience in the TV and Film production industry. Prior to running a Production Company in India he worked extensively in the TV Commercials and Corporate Video sector in London. His clients included...
BBC – Spooks, Strictly Come Dancing, National Lottery Show
ITV – Midsomer Murders, Rosemary & Thyme, Ultimate Force
Renault
Toyota
Pink Floyd
Spice Girls
Publicis
Saatchi and Saatchi
McCann Erickson
Euro RSCG
HCL Howell Henry
Oil Factory
Farm Communications
L'Oreal
Garnier
HMV Records
Virgin Records
Michael Winterbottom's "Road to Guantanamo"
Tony has also served as an adviser to Avid Technology, working with them on the development of their high end editing systems.