Coronovirus Updates for India, Nepal & Bhutan
India...
India announced a complete lockdown on the 24th March for an initial period of 21 days. This post is dated 9th April and already there is talk of extending the lockdown until at least the end of April. Several state Chief Ministers have made requests to the central government for an extension. Essential services such as supply of basic food staples are available although the supply network might not be reliable in some areas. State borders are closed. There is no public transport, and no domestic or international flights, apart from those chartered by embassies to repatriate stranded citizens. The ongoing situation after the 14th April (currently the last day of lockdown) for international flights is unclear. Air India has suspended all flights until at least the 30th April and contacts in the travel industry say that many airlines are following this trend. Some airlines are taking bookings although the government are saying that resumption of flights after the 14th of April is 'mere speculation'.
The Indian Motion Picture Producer's Association had announced closure of all productions in the country from the 19th to 31st March prior to the official lockdown. This is extended by default due to the official lockdown and no shoots can take place.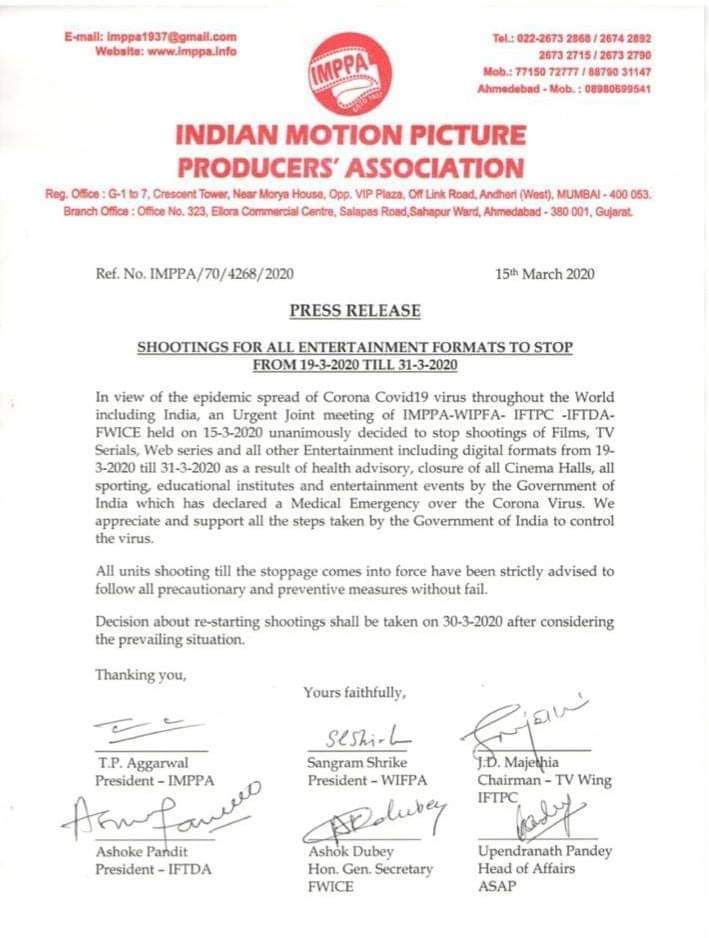 India is not currently issuing J-Visas (Journalist), F-Visas (Film), or any visas whatsoever at the time of writing. If you are considering shooting in the country we advise waiting until the official lockdown is over and then allowing at least 2 months before scheduling a shoot. Speculation is that when the lockdown is over there will be a spike in Community Transmission.
UPDATE 14th April 2020: The Indian government have announced an extension of the strict nationwide lockdown until 3rd May 2020. All domestic and international flights are prohibited until the 3rd May and all visas remain 'suspended'. The government categorizing each district into Red, Yellow, or Green zones. Some useful relaxations in trade and travel restrictions will be available in Green zones. However, all state borders remain closed apart from essential goods and emergencies.
Full guidelines can be downloaded from the Ministry of Home Affairs. Click here for the document.
UPDATE 1st May 2020: The Indian government have announced a second extension of the strict nationwide lockdown until 17th May 2020. All domestic and international flights are prohibited until then. The Director General of Civil Aviation has indicated that there will be no international flights until at least the 1st June and that it will take a while to ramp up services. The DCCA also said that the situation was under constant review. There have been some relaxations in travel restrictions and business hours but all interstate transport is still banned apart from essential goods and services. There is also a nationwide ban on all movement without a permit from 7pm to 7am. It is not clear when the Indian government might lift visa suspensions and begin taking fresh applications but we could speculate that this would coincidence with the reinstatement of international flights.
Click here to download the full guidelines from the Ministry of Home Affairs.
Nepal...
The country sealed its borders with India and China and announced a lockdown for one week on the 24th March which has now been extended until 15th April. We expect further extensions. Trekking and climbing expeditions are all cancelled. Although we can find no specific reference to film and TV shoots we assume that these will also be cancelled until the lockdown is over. All international flights are suspended until 20th April.
The Nepal Ministry of Health is running a site with regular detailed news in Nepalese here... https://covid19.mohp.gov.np/#/
English language online news direct from Nepal is had to come by but Indian online newspapers are covering the country. Here's a link to Nepal Cornovirus News on Google in the last week... Click here....
UPDATE 14th April 2020: Hot in the heals of the Indian lockdown extension Nepal announced an extension of their lockdown until 27th April. This is despite the country only having 30 Covid-19 cases and 0 deaths. Let's hope it stays that way!
UPDATE 2nd May 2020: The suspension of all domestic and international flights has been extended until 15th May. The Ministry of Health and Population is working on plans to ease the nationwide lockdown in a bid to gradually restart the stalled economy. Similarly to India the country would be divided into three clusters of red, yellow and green, depending on population density, geography, linkage to international border and number of coronavirus cases, The Himalayan Times reported on 1st May.
Bhutan...
The country sealed its borders on the 21st March when one American tourist tested positive. We understand that Bhutan is in quarantine and that the period was increased on the 31st of March for a further 21 days until 21st April. The country only has 5 cases and no deaths and the state has not deployed harsh lockdown measures. Instead they are working on the basis of national collaboration to contain the crisis.
There's an interesting article here... https://madrascourier.com/opinion/why-bhutan-is-an-outlier-in-the-fight-against-coronavirus/
UPDATE 18th April 2020: This from our team in Bhutan... "Bhutan has recorded, so far, FIVE Covid-19 confirmed cases. All the cases are imported. From it TWO have recovered. There have been no deaths yet. Travel restrictions for both international and Bhutanese citizens are still firmly in place, its second month running. Not likely it's going to open anytime soon. Bhutan tourism has taken the hardest punch in the gut in so far as businesses and employments are concerned. The government has introduced some economic stimulus plan in addition to cash handouts to the most vulnerable ones in the community. We are not under lockdown like in India but we have been advised to stay indoors and avoid crowds. All sports, gatherings and meetings have been banned."